Multi-storey
Free

2 hours from 08:00 to 24:00

Paid

3 €/every additional hour from 08:00 to 24:00 3 €/hour from 24:00 to 08:00

Open

00.00-24.00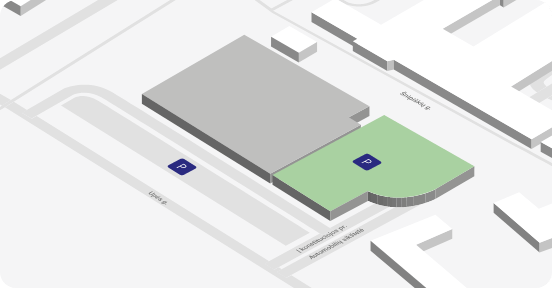 You can pay for the parking before leaving the car park on the second floor at the payment machine in cash or by bank card or via payment app uniPark in your mobile phone iOS and Android.
The rules of the multi-storey parking garage:
1. 2 hour FREE from 08:00 to 24:00. Time is summed up.
2. From 08:00 to 24:00 every additional 1 hour – 3 Eur. From 24:00 to 08:00 every 1 hour – 3 Eur. THE PARKING METER GIVES CHANGE!
3. The car parking is available around the clock.
4. There are parking spaces for disabled people on the 2nd and 3rd floors.
For any questions please e-mail info@unipark.lt or call +370 70077877.
Outdoor
1,5€/hour

I-VI 8.00-18.00

Free

I-VI 18.00-08.00 and all VII

Open

8.00-24.00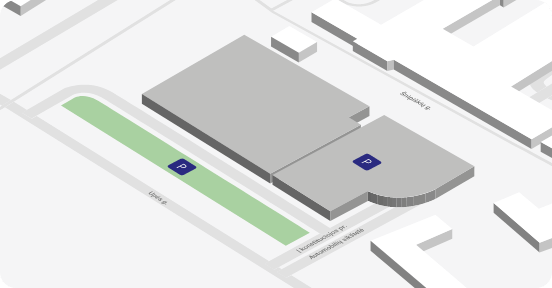 CUP outdoor parking is paid, from Monday till Saturday, from 08:00 a.m. to 06:00 p.m.
Charge for parking – 1,50 EUR/1 hour. THE PARKING METER DOES NOT GIVE CHANGE!
You can pay for the car parking in cash, via SMS or mobile application at the main entrance of the CUP building on Upės St. No receipt is printed, and it is not necessary to display it under your windshield. The Unipark employee checks the cars by scanning and verifying the license plate numbers against the information in the parking meter.
If you will not pay for outdoor parking, or exceed the limit, car owner will be given a fine of 15 EUR. This fine you must pay within 24 hours. If you will not pay, the fine money will be recovered LR statutory order.
Sužinokite daugiau
Yes, you can come by bike. There are bike racks at the main entrances from Upės st. and Konstitucijos ave.